Basic RV Refrigerators
Forward:
I can speak with some experience on troubleshooting the operation of a refrigerator. We were parked at an older RV Park, and were gone from the RV for the day. Upon our return at around 4:00 pm, we decided to drive a couple of hundred miles in the late afternoon. When we arrived at our night's destination, we noticed that the temperature was warming inside our Dometic refrigerator and it was not cooling very well. We started to also notice that the rear TV. was not working and a few other electrical items in the RV were also not working. I then recalled that as we were leaving the RV Park earlier in the afternoon, they had been digging with a backhoe. Conclusion, the RV had been exposed to a power spike perhaps caused when they were digging in the vicinity. Now we had to figure out what was shot and what was not. Did I mention we were just starting on a month long trip? In the next few days, I became acquainted with how RV refrigerator operated and where to find information to troubleshoot it. Listed below are some good resources.
I might also mention that I have since had a number of conversations with various RV Technicians and most recommend replacement of the OEM circuit board with a Dinosaur Electronic one. Better Warranty and More Reliable. Of course, if it is covered under warranty then it will be replaced with an OEM part.
The first step is to build ones understanding of how your RV refrigerator works. One should understand that RV refrigerators work very differently from the one you have in your house. An excellent reference may be found at the following website: http://www.rvmobile.com/TECH/TROUBLE/COOLDOC.HTM complete with graphic diagram. See Below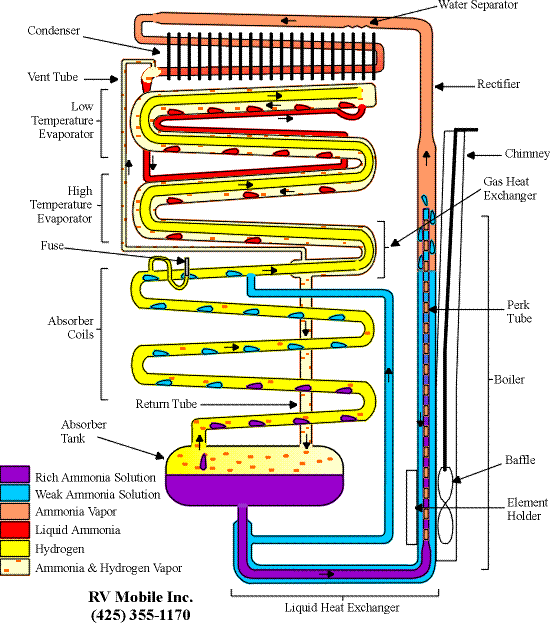 Helpful Links:
Submitted by Mike Sundberg - 2/06/06

Click Your browser's "Back" button to return to the previous page
or chose another category from the side menu.

The RV Tech Library is brought to you by the TiffinRVnetwork