Typical RV Electrical Systems
A motorhome is a complex electrical device. Just like any other vehicle, a 12 volt electrical system is provided to run the engine when driving and run lighting, windshield wipers, and other accessories. In addition to this, a 12 volt electrical system is required to run the various camping devices in our "house on wheels". Now we add a 120 volt AC electrical system to further complicate things and then power it from a generator set as well as shore power. Of course, just to make sure things don't get too simplified, we add an inverter to "make" 120 volt AC power from the batteries.
These tasks are all accomplished by a number of sub-systems that are tied together. It really isn't all that hard to understand once you get a grasp of the basic concept. There are 3 basic systems in a motorhome - 120 volt AC, 12 volt chassis, and 12 volt coach (or house) systems.
12 Volt Chassis System:
In order to operate the RV while driving a 12 volt electrical system is required which is very similar to any passenger vehicle. The systems are run from a 12 volt battery, which is also used to start the engine. The engine's alternator then recharges the battery and provides additional power output while you drive. An RV is the same way. The "chassis" electrical system is supplied by the builder of the chassis, which may be Ford, Workhorse, Freightliner, Spartan, etc. All the coach builder has to do is find a place to mount the instrumentation, switches, etc. This system uses a set of batteries that are separate from the coach or house batteries. That way if a camper were to run down his batteries while camping he could still start his engine.
12 Volt Coach System:
The coach battery system is used to provide lighting, run fans, power the fresh water system water pump, and other accessories typically used when parked rather than driving. The battery bank for the coach is separate from the chassis. These batteries will need to be recharged eventually and there are a number of ways to do this. First, if plugged into shore power the converter or inverter/charger will charge these batteries as well as run any 12 volt accessories. Secondly, if the generator set is running it will put out 120 volt AC power, which will also run the converter or inverter/charger. Thirdly, when driving the engine alternator can charge these batteries via the charge solenoid.
120 Volt AC System:
RVs also have a number of 120 volt AC items in them. Items such as hot water heaters, air conditioners, and microwave ovens are too large to run from battery power. A 120 volt breaker panel will feed all of these AC circuits. The power to feed this panel can come from either shore power or the generator set. An automatic transfer panel is used to switch between these sources. When no 120 volt power is available, critical items such as refrigerators and water heaters can run off of propane. However, air conditioners will require AC power to operate.
Here's a sample diagram of an electrical system that uses a converter. The red lines are 120 volts and the green lines are 12 volts: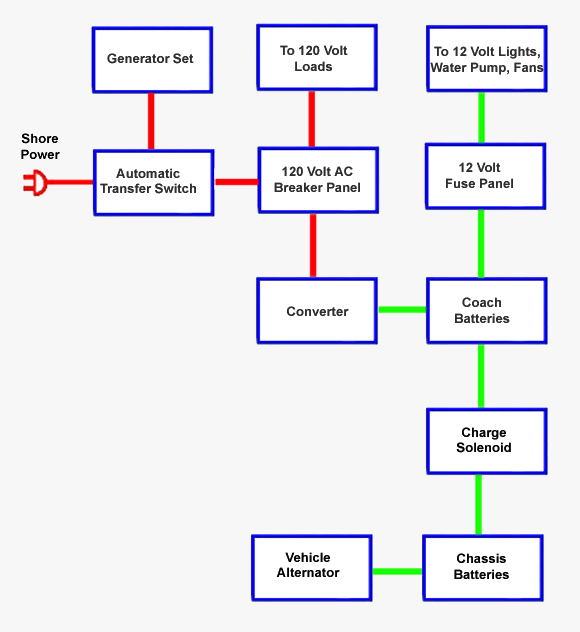 In this example we see that the AC breaker panel receives power from either the generator set or shore power. The automatic transfer switch will be spring held in the shore power position and as soon as it senses generator power, it will kick over to the generator set after a brief time delay. Once the power hits the panel it goes to the various circuits as well as the converter. Actually, converter is a fancy name for battery charger. The biggest difference is that the converter is designed to actually run these 12 volt loads as well as charge the batteries. The converter and/or coach batteries then power the 12 volt systems. When driving the vehicle the engine's alternator will close the charge solenoid and both the chassis and coach batteries will be tied together and be charged by the alternator. As soon as the engine is switched off the charge solenoid opens and the two battery systems are separated.
Here's a sample diagram of an electrical system that uses an inverter/charger. The red lines are 120 volts and the green lines are 12 volts: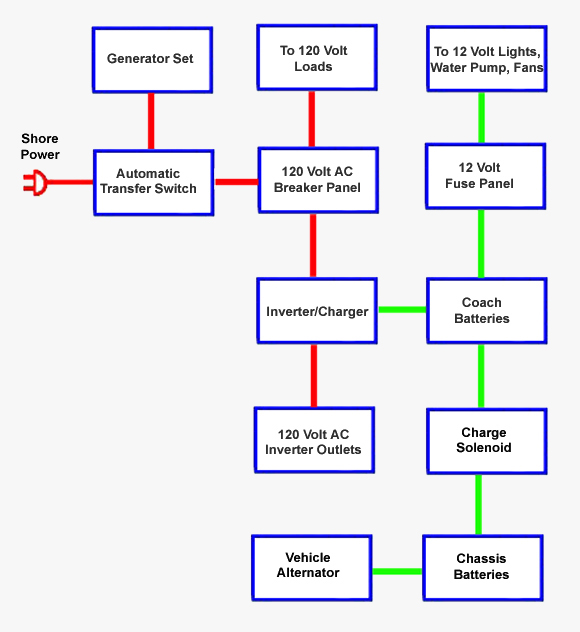 This example is very similar to the previous one. Here we replace the converter with an inverter/charger. The inverter/charger can be used in two modes. In the inverter mode the inverter draws 12 volt power from the coach batteries and creates (or inverts it into) 120 volt AC power. This power then feeds a number of inverter fed circuits within the coach. This can be done while driving or dry camping. Whenever the inverter senses 120 volt power present at it's inputs, either from shore power or generator set operation) it will enter the "normal" mode. In this mode all of the AC power just passes right through the inverter as if it isn't even there and feeds the "inverter" outlets. This AC power also turns the inverter into a battery charger which then back feeds the batteries to recharge them. That's why an inverter/charger does not need a converter because it contains this function. Be sure to not confuse an inverter/charger with a smaller inverter. Some motorhomes do not use a system wide inverter/charger. They use a smaller inverter to power the TV and entertainment center but retain the existing converter to handle the 12 volt system. In this case, they use a simple inverter, with no battery charging capability.
Submitted by Mike Sundberg and Mark Quasius - 2/24/06

Click Your browser's "Back" button to return to the previous page
or chose another category from the side menu.

The RV Tech Library is brought to you by the TiffinRVnetwork