The Tiffin Story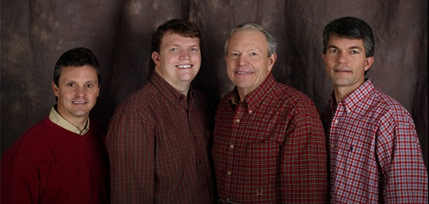 A family business, built around yours.
When you drive up to our plant in Red Bay, Alabama, you won't come across a slick corporation, operated by far-flung investors. What you will find, is a family business. With members of the Tiffin family onsite, working every day.
For us, this is more than a business venture - we feel like it's our calling. For our family to serve your family - with good service and a product you can feel proud of driving down the road.
The relationships we've built with our owners over the years speak for themselves. They're unique in the industry, and we consider ourselves fortunate to have gotten to know so many of you. And, we are every bit as proud of the dedicated crew of craftsmen who work with us. At Tiffin, the feeling of family and commitment extends all the way down the assembly line.
Three decades is a long time.
The luxury features and sophisticated engineering we build into today's Tiffins was impossible to imagine back when Bob Tiffin built the first Allegro in 1972. But most of the same basic truths guide us today. Build it well. Make it better. Back it with good service. Treat customers the way they would want to be treated.
Since day one, Tiffin has been a family business. Our company is filled with employees who have made working at Tiffin Motorhomes a family tradition. It's a kind of loyalty that just isn't seen very often these days. But then again, neither is this kind of quality and service. Here are a few members of the Tiffin family who have built their lives around bringing you a quality product.
Bob Tiffin
Founder
Bob founded Tiffin Motorhomes in 1972, and since then the company has manufactured and sold over 42,000 motorhomes. With the simple mission of, "building lifetime relationships by doing our best to exceed the sales, service and overall ownership expectations of Tiffin Motorhomes owners and dealers", Tiffin has earned its reputation for having the best products and customer service in the industry.

quot;Our name is on the product, that's enough for us to fix whatever is wrong", he recently told RV Business. This philosophy is at the foundation of our slogan, "Wherever you go, we go!"

Bob is a 25-year RVIA member and for his dedication and commitment, he was inducted into the Heritage Foundation Hall of Fame in 1999.

Tim Tiffin
General Manager
The oldest of three children, Tim graduated from the University of Alabama and joined the company immediately. From his first job in purchasing, Tim has progressed in his managerial roles to his present position of General Manager.

"In 1997, Dad led the celebration of Tiffin Motorhomes, 25th Anniversary as a privately-owned Class A motorhome manufacturer," Tim said. "That is no small achievement," he added. "It is now my job to see that we excel in the next century and celebrate our 50th anniversary in 2022. My brothers and I feel that we are up to the task and welcome the challenge."

Outside of work, Tim is an accomplished tennis competitor. He is an entrepreneur of his own right. Tim, his wife and children live in Sheffield, Alabama, a short drive from the plant in Red Bay.

Van Tiffin
R&D Manager
Van holds a degree in Public Relations from the University of Alabama where he was a place kicker on the Crimson Tide Football Team.

He now serves the company by managing product development, including research, design, prototype development, promotion and advertising-all key elements in motorhome sales.

Van is also in charge of manufacturing's creative and innovative efforts. One personal motto is: "If it isn't broken, break it; and change it for the better."

"Competition is the keenest in the history of the industry," commented Van. "Customers are the reason we are in business. If we continue to meet their needs, they will keep us in business. It is my job to pay special attention to what customers are telling the motorhome marketplace."

Away from the office, Van conducts an Alabama kicking school each summer. He is an excellent fisherman, yet his multiple roles in the company have allowed cobwebs to form on his tackle boxes. Van, his wife and children reside in Muscle Shoals, Alabama.

Lex Tiffin
Quality and Assistant Plant Manager
Before joining the company in 1998, Lex Tiffin studied art at the University of Alabama. His sense of design, pattern and creative insight now serve his quest for making quality the #1 goal in the manufacturing process. Lex has implemented in-line inspection and correction where quality exceptions are corrected immediately after they occur. This means that the people most familiar with a problem are those who fix it. By the time the product gets to the end of the assembly line it is generally 'good to go'.

Lex stated strongly: "We do quality right from the start. Quality cannot be inspected into a product, it must be built into each step of the assembly process. A customer deserves quality. After all, a motorhome is a person's home away from home. They want the same quality in their motorized home as they demand in their stationary home."

Lex and his wife, Denisha reside in Russellville, Alabama. Denisha is a member of the administrative office staff of Tiffin Motorhomes. Lex also has considerable drawing talent and a very strong interest in the culinary arts.

Judy Tiffin
The spouse of an entrepreneur is an intimate working partner in the building of a business. Along with her leading role in the interior and exterior design of Tiffin products, one of Judy's many contributions to our success was naming the original product line: Allegro.

Knowing that Bob wanted a name that began with "A" so that his company would be listed at the beginning of trade directories, Judy equated the essence of movement in a motorized home with a musical movement: Allegro. In music, Allegro implies something brisk, sprightly and cheerful. So Allegro was born as the core product name for moving about the country in an Allegro Motorhome.

Taking Judy's name Allegro as a lead, other names with a musical and lyrical tone have become part of Tiffin Motorhomes terminology-such as Tiffin Tempo, the name of the periodic Tiffin Motorhomes newsletter for its dealer network.

The Allegro family of product names have grown to include: Allegro, Allegro Bay, Phaeton, Allegro Bus, and Zephyr. It all began with the shared vision of Bob and Judy Tiffin.
The Innovation never ends
We're always looking for new ways to build more value into your Tiffin.
We have long been known for our impeccable customer service. But what many people don't realize is that we have also been a leader in industry innovations. As a result of listening to our customers, we've introduced a number of groundbreaking products and processes.
Windows
We use 1/4" glass rather than the 1/8" that most manufacturers use. The results are safer, quieter, more durable and energy efficient windows, much like the windows used in building a home.
Steps
Instead of bolting our steps to the well, as most manufacturers do, we weld ours directly to the frame. By attaching them to the chassis, our units are much more sturdy, and you never experience soft or loose steps.
Storage
Storage in a motorhome is a premium. Our coaches use quality solid wood doors and have anywhere from 55-60 cabinets and drawers. By comparison, other manufacturers only feature between 30-40.
Basement
Up until 1999, no motorhome had a full basement for storage. That was the year we changed everything, and now just about every other Class A manufacturer has followed our lead.
Triple Slide
We were the first company to introduce a three slide unit when we built the Allegro Bus.
30' Double Slide
Today, we are the only manufacturer to offer a 30' coach with a double slide with the Allegro Dual Slide 30 DA.
Chassis
We reinforce each of our three basic chassis with additional steel crossbracing. This adds to the strength and integrity of our product and makes for a safer and more durable motorhome for our owners.
Warranty
We steel reinforce all of our chassis, enabling us to offer a better warranty on lamination (5 years) and unitized construction (10 years).
Submitted by Mike Sundberg - 3/03/07


The RV Tech Library is brought to you by the TiffinRVnetwork